Wiktoria Florek – mixed media abstract artist, born in Cracow in 1983. Based in Barcelona.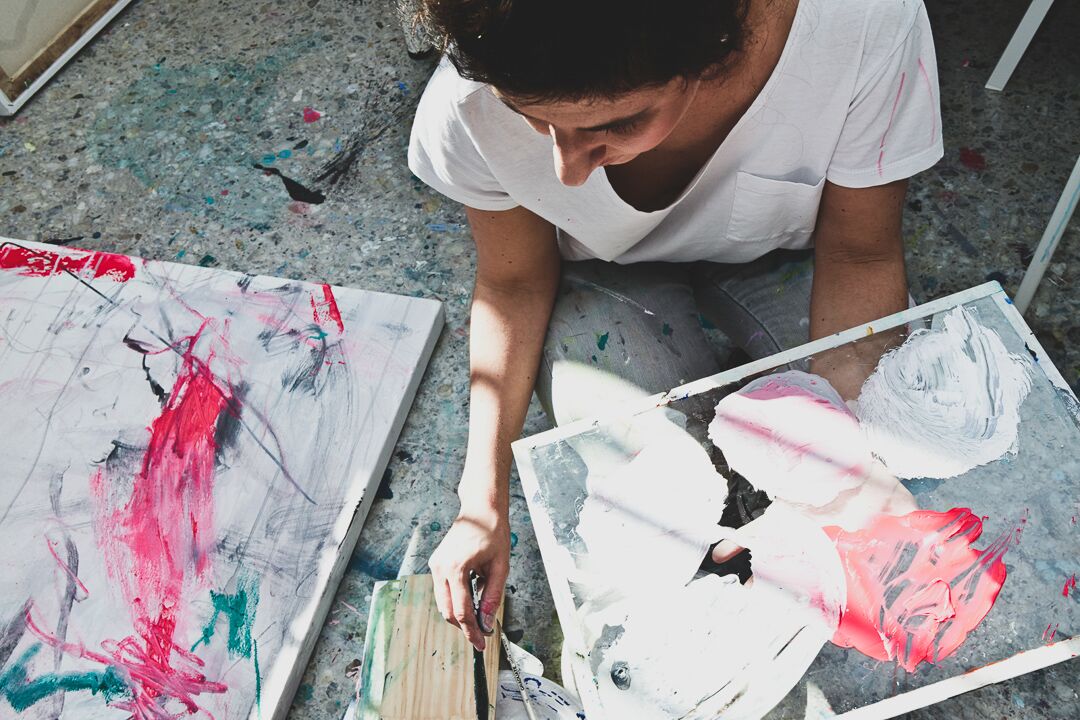 Wiktoria Florek was born in 1983 in Cracow, Poland where she graduated from the University of Economics with a master degree in International Economic Relations.
From 2005 through 2011 she studied and worked in Spain, Scotland, Mexico, Belgium and USA NYC. In 2011 she settled in Barcelona, Spain.
For several years she has been working in multinational companies in finance and internal audit. In 2014 she decided to take a gap from her corporate job to study at the Barcelona Academy of Art and explore her artistic yearning.
Currently she combines being an artist and auditor. Privately, wife and mom of two.

Her emotionally intense style origins in the abstract expressionism which was developed by American painters in 1940s and 1950s, characterised by gestural brush-strokes, mark-making, stains and the impression of spontaneity.
Her work carries noticable influences from mid twentyth-century American abstract painters such as Joan Mitchell and Mark Rothko as well as nineteenth-century post-impressionist painters, particularly Henri Matisse, Van Gogh and Joan Miró.
She creates large mixed media canvases mostly with acrylics, graphite, markers, charcoal, pastels and chalks.
Her work was exhibited in International Art Fairs in Cologne – Kolner Liste and Barcelona – Barcelona International Art Fair as well as solo and group exhibitions in Barcelona (Spain), Cracow (Poland) and Zug (Switzerland).
Currently, her paintings are in private and public spaces in 13 countries: Poland, Denmark, UK, Belgium, Luxembourg, Greece, Spain, France, USA, Canada, Australia, India, Perú.
EDUCATION
2014
Barcelona Academy of Art, Long Pose Drawing, Pencil Drawing, Experimental Painting, Barcelona Spain
2013
Nuria Duran Atelier, Experimental Painting, Barcelona, Spain
2003-2008
MA, Cracow University of Economics, major in International Economic Relations, Cracow, Poland
COURSES:
2018-2019
Studio Journey – 12 month online creative program, Nancy Hillis
2017
Artist's Journey – 3 secrets of the masters, 5 week online course by Nancy Hillis
SOLO & GROUP EXHIBITIONS
2022
URBANSIDE GALLERY, Group Exhibition, Zug, Switzerland
2018
WYDOH Experience, Group Exhibition, Barcelona, Spain
2017
Escola d'Humanitats Artkhé, Solo Exhibition, Barcelona, Spain
2016
Barcelona International Art Fair, Barcelona, Spain
Holistic Clinic & Gruning Gallery, Solo Exhibition, Cracow, Poland
Gruning Gallery, Group Exhibition, Cracow, Poland
2015
Soulmade Art Festival, Barcelona, Spain
Private Viewing, Sabadell, Spain
Cor23 Art Gallery, Group Exhibition, Barcelona, Spain
Destil·leria Gallery, Group Exhibition, Mataró, Spain
European Museum of Modern Art MEAM, Group Exhibiton, Barcelona, Spain
2014
Novum House Apartments & Gallery, Solo Exhibition, Cracow, Poland
Koelner Liste, International Art Fair, Cologne, Germany
2013
Cultural Center, Group Exhibition, Barcelona, Spain